If you live in a small apartment or home, you probably don't have a lot of extra room to spare for a large, or even average size, Christmas tree. This Christmas, you can bring an abundance of Christmas spirit into your home while taking up minimal space with these great alternatives to the traditional Christmas tree.
Mini Christmas Trees
The simplest way to add a space efficient tree to your home is to purchase a small, or mini tree. The smaller trees are cheaper and disposable, so you don't have to take up room to store it for the next year. If you have enough storage space, the most cost efficient choice of a small tree would be the purchase of a fake one.
Wall and Door Xmas Trees
There are many creative ways to have a tree without taking up extra space with tree stands and skirts. Take advantage of the space on your walls doors to create a beautiful and efficient Christmas tree.
Lights, Garlands and Ornaments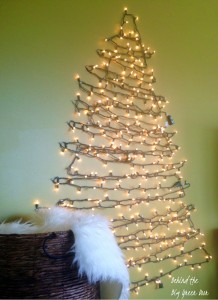 Use strands of lights and garlands strung along clear pins to create the shape of a tree on your wall. Do this in an area of a room where you can allow for a small gathering of gifts to be places. Use ornaments as well to add your own personal or sentimental touch.
Christmas Tree Wall Decals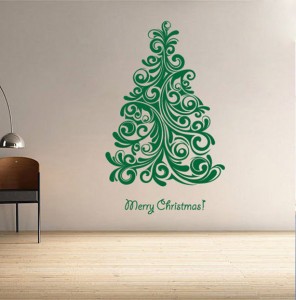 Wall decals are a growing trend in home décor. Many companies offer a variety of beautiful and stylish Christmas tree decals for those seeking a modern, alternative to the traditional tree.  You can find traditional tree design options as well as the most creative trees you can imagine. Use them wherever you would place a real tree, as the focal point of the room, next to the couch or in the corner.
Christmas Door Trees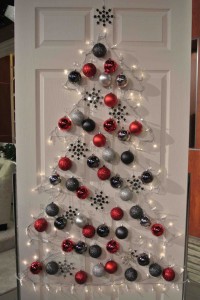 Another great alternative, and possibly the most space efficient option, is to utilize a door in your home as the canvas for your tree. Like the wall trees, use strands of lights, garlands and ornaments to create the tree. To avoid holes damage to paint, use damage free hooks to hang the strands and ornaments.
Other Resourceful Christmas Trees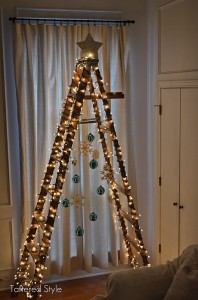 Be both resourceful and efficient this Christmas by creating your tree out of things you already own. Turn your old ladder into a functional tree. Decorate with traditional lights and even stack gifts on the steps to take advantage of the storage space it has to offer.
If you really want to get creative and wow your guests, hang your existing ornaments from the ceiling from different areas and lengths to resemble the shape of the tree. It takes time and skill, but it's worth it!
Pack on the Christmas spirit without cluttering up your living space with a creative alternative to the traditional tree.
Jon Clark is an
Internet Marketing Consultant
, Entrepreneur and current editor of the
Facebook Marketing Blog
. Jon loves coffee, sports and NY. You can follow him on Twitter
@jonleeclark
or circle him on
Google+
.