Have you ever had that feeling that, at last, all the stars aligned in your home décor? All the colors are like a melting pot of genius and the accents are pure perfection. It's a good feeling unless you're a trendsetter in which the mood can change in a blink. Suddenly, the harmonious feeling you had about your home seems so last year. It's where your ideas and pocketbook don't transfuse.
Color can easily be substituted with an inexpensive, transitional piece like a pillow or table top accessory. In parallel, accessories provide an array of projects to simplify and amplify your space. The key is to focus, first, on the core furniture that anchors the room, picking neutral and flexible colors. Then, move on to, more non-committal, accents that could change your life in a day.
If that doesn't sound easy enough, I have five suggestions to give every home design lover a quick fix.
Paint is the ultimate refresh for your home. I realize it's not an easy project, but it's one you could conquer alone. A new hue can transform a room in a hurry. If you're reading this and rolling your eyes, start with an accent wall first. You can always stop there and feel accomplished. If walls are too much, try painting a wood piece of furniture with a non-prep, chalk paint.

You can find this paint in most any home improvement store. No prime, sanding or grunt work needed. Choosing a color is the hardest part. Look up a color chart from a trusted paint company.
Many companies like Sherwin Williams study paint trends and list findings on their company website. You can always trust a color that is approved by a group of designers. Try a paint chart like the Pottery Barn color collections from Sherwin Williams:
Give your photos a home! Family photos in a traditional frame with a flip back are not the solution, here. Give your old photos a new look with a crisp frame without a back, and place them on a layering shelf. You can mix the photo frames with canvas art you already own or table top accessories. This is a non-conventional way to revive your space. Consider the length and height of each shelf when choosing the appropriate accessories or frames.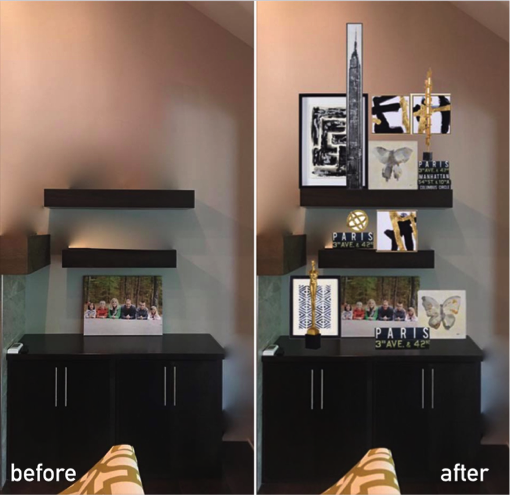 It's important to vary the sizes of objects or match your selections to the scale of the room. I suggest mapping your accessories with a pencil and paper or laying out your shapes on a computer. Many, big box, hobby stores put frames on sale for the taking or use a less costly poster frame. This is an example of accessory mapping. Don't be intimidated by the graphic drawing, as you can do the same with a sheet of paper. It may be a less attractive plan, but in size planning, it will suffice.
Pillows are so simple and full of life. Pick a pillow to replace the factory version that came with your sofa. Try a look with fringe, texture or a vibrant color. If you get tired of one pillow, you can economically trade for a new model. If you're feeling like an overachiever, pick a fabric you love and sew your way to a new style. Putting four seams on a square pillow is easier than you think!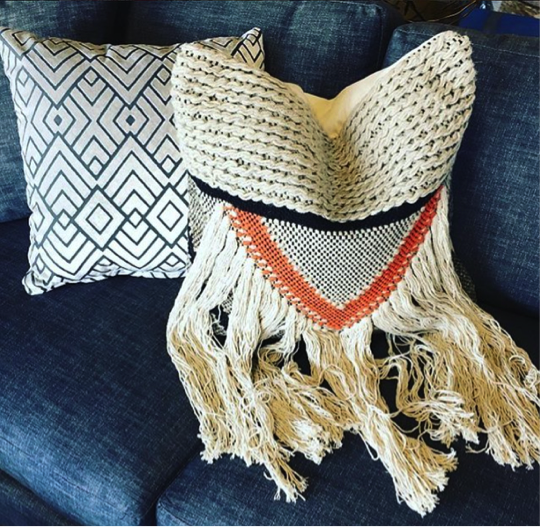 Try a pillow that is at least 20×20 inches. This size gives your sofa drama and is much more appealing to the eye. Using a large pillow also eliminates your need for quantity. A good four pillows to a standard sofa, even two, can give you a change. Fewer pillows are also a solution to moving them when you feel like sitting down… Less is more. A down or feather fill pillow also gives a more polished look. While it may be more expensive, it will shape better and last longer.
Add books to your scheme. No… You don't have to read them. Pick books with a colorful spine or cover pre-owned encyclopedias and such. A little elementary decoupage can add to old books you have lying around the house.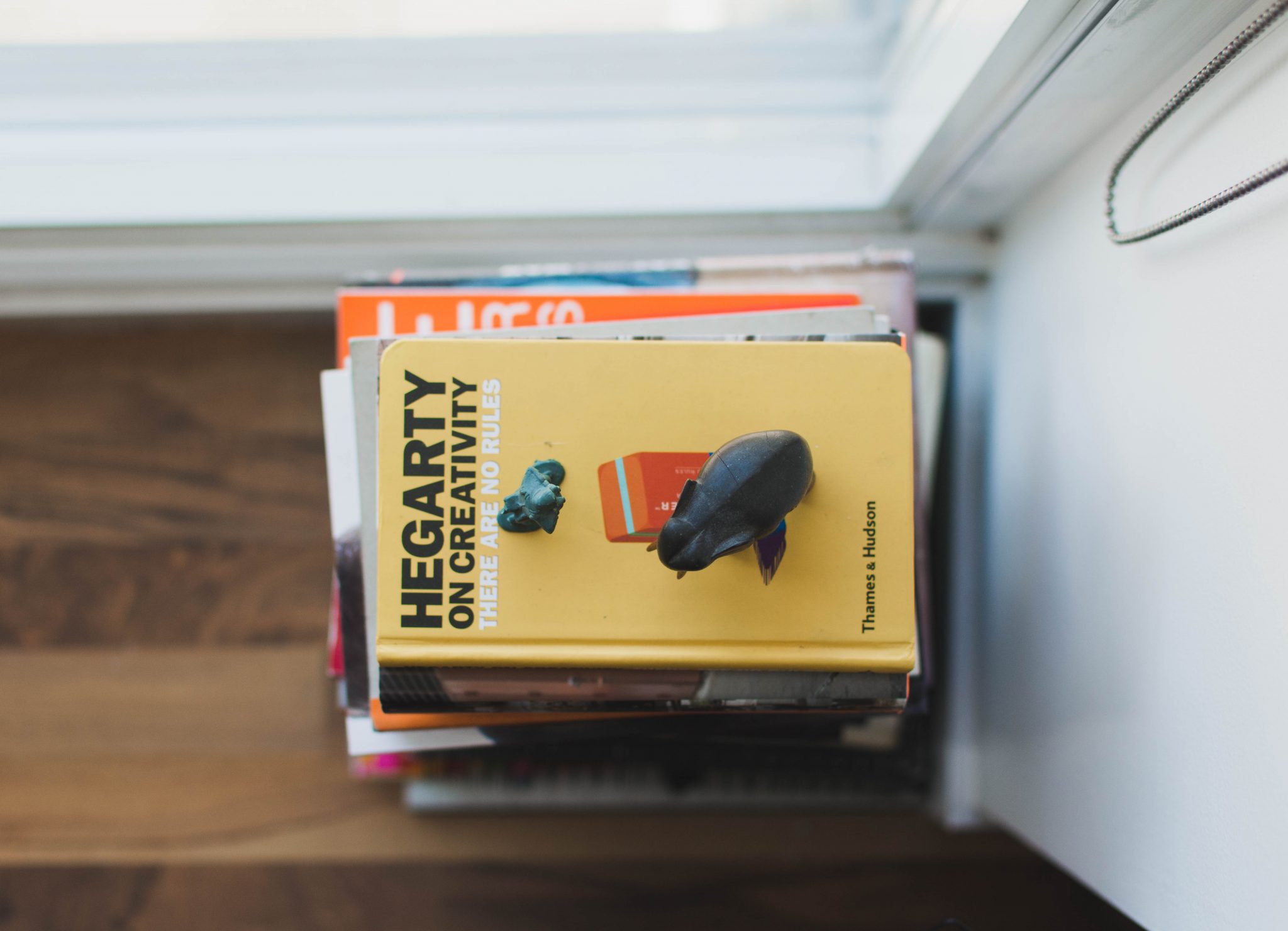 Pick a book that says something about your personality or interests. Creating conversation from a book title is a bonus! Your guests will love the creative addition, and a book will provide visual interest and elevation to differentiate accessories. Again, vary the size and direction of placement. Use books as a stair step to visual opulence. Create a stack and top it with a small accessory.
Lastly, pay attention to lighting fixtures and hardware. Get rid of out of date lighting. If you want to keep the shape but change the color, do it with a spray paint in an updated, brass, gold or black. Trade chandeliers in for a makeover. Try an oversized orb or geometric shape. Adding glamor to a rustic table is never a bad idea. Be bold in mixing an, otherwise, drastically different style. Creating the perfect mix of sophistication and casual finishes is a challenge, but the reward is stunning. Below, I've mixed an elegant wood beaded chandelier with a raw wood top and colorful chairs. No two seem alike, but the result is a cohesive design with a variety of style.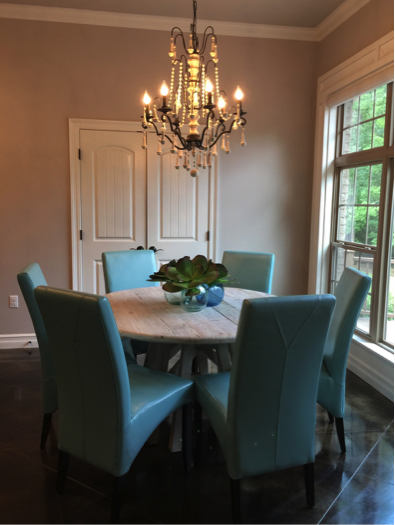 Additionally, change your cabinetry hardware with a finish that incorporates the lighting fixtures and transitions well throughout your home. It may seem like a tiny detail, but changing hardware can pack a punch. A mix match of finish can be distracting. Draw the right kind of attention to your hardware by selecting a flawless mix and on-trend color.
If your home-making has hit a low, these small changes can transform a tiresome look. Each room in your home reflects you. Make a statement that says something about your energy. It will speak volumes to your family and friends. Believe it or not, updating your space can change the mood of those who reside there. Most importantly, don't be afraid to do something different. There are so many resources, like this one, to inspire change.
Jon Clark is an
Internet Marketing Consultant
, Entrepreneur and current editor of the
Facebook Marketing Blog
. Jon loves coffee, sports and NY. You can follow him on Twitter
@jonleeclark
or circle him on
Google+
.