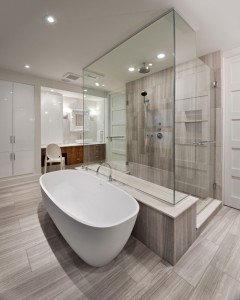 When creating an en suite bathroom, the two most important factors to consider, even before you get into the matter of cost and chosing the suite and furniture, are what room it is going to be an en suite for and what the dimensions of the en suite are.
Why an bathroom en-suite?
Although it may seem a really obvious question, knowing what room you are building an en suite for clearly sets parameters for both design and function. If you are adding it to your own bedroom, then your own taste and needs will prevail. However, if it is going on a child's bedroom then the practicalities of the room are different. Similarly, a guest room will have different requirements as will an en suite added to boost the sale value of a property.
What goes in it?
Your own bedroom's en suite will most likely be the bathroom you use first thing in the morning and last thing at night. If space and budget permit, it may also become your main bathroom and the bathroom suite inside will reflect this. Depending on the purpose you need to make sure of good lighting and a great mirror for things like applying make-up, cleansing your face or just performing basic dental hygiene. If space permits you may add a toilet and even a shower or bath.
For children
A child's bedroom's en suite will probably place less focus on things like make-up or shaving, but there is still every need for a basin to make sure they have no excuse to avoid brushing their teeth. A toilet is of greater importance here, as children often need to make more frequent trips to the bathroom and it makes things easier for the whole family for them to have one close at hand.
Great investment
A guest bedroom or an en suite purely to boost re-sale value will often be more sterile and seem multi-functional, perhaps at the cost of personality and catering to one particularly need. This is not to say it will be unattractive or poorly thought out, but it will reflect less on the taste and needs of the people who use it.
Maximize space
The size and shape of the room are the most obvious constraints regarding the design of an en suite bathroom. Put simply, if the room is too small you can't get a bathroom in there. If the shape is awkward you may be looking at placing an unconventionally shaped bath in there. You would have to prioritize which items you want in such a room and make the decision accordingly. Luckily, there are some great corner baths, smaller baths and shower baths to help you maximize function and comfort regardless of the space available. Similarly, a smaller toilet or one with an in-wall cistern can also help to maximise what may only be a very small amount of space.
Emma writes for Liberty Bathrooms a supplier of superior quality cloakroom suites and other bathroom items.
Jon Clark is an
Internet Marketing Consultant
, Entrepreneur and current editor of the
Facebook Marketing Blog
. Jon loves coffee, sports and NY. You can follow him on Twitter
@jonleeclark
or circle him on
Google+
.