Want to show off your creativity and make your bedroom stand out? Here are some tips that will help you decorate your bedroom with panache without spending a lot.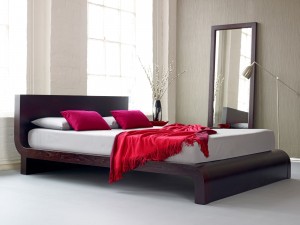 Focus
Make a place the focus of your room, be it your bed or an upholstered window seat. You can even draw attention to the area above your bed or even your closet. Make sure that region sticks out. Use throw pillows or different colors to accentuate and emphasize the region.
Mirrors
Mirrors can work magically to make your room seem bigger and add more glamour and brightness. Use them strategically to enhance the sense of spaciousness.
Paint
Paint a single wall a different color. It can be a totally contrasting color than the rest of the room. This will help make your room look different. You can even use wallpaper to demarcate a specific region of the room.
Theme
Choose a theme for the room. It can be anything based on your choice and preferences. Make sure the colors do not clash. Another technique to try out is to make some section of the room a different color and the rest a totally different one. Monochromatic and pale themes with a dash of color in one corner or niche are the best.
Personality and Customization
Add some features that lend the room a unique touch. If you are into some movie or character, you can add posters or accents subtly. You can even give it your trademark look by adding some hand crafted or painted object as decoration. You can even include a life size portrait of yours or a photograph. Monogrammed pillow covers speak volumes about elegance and class. If you are into fashion, you can even sport your favorite pieces of clothing on a stylish clothing rack. The key is not to overdo it. Go for something that you are passionate about.
Candles
Candles are an inexpensive way to enhance the ambiance of a room. They can make a room smell good and even lend an eerie charm to an otherwise bland looking functional area.
Decorations
You can decorate your room according to your personality. Some people choose to display books. Books lend a unique old world musty charm to the room. If books are not your thing, you can make your room look good by placing toys or dolls as decorations. Action figures, race cars, teddy bears, etc. are the most popular choices. Flowers, paper mache decorations, posters, etc. are also pretty common. If you want a more matured look, you can choose to sport glass pieces, carved structures, sculptures, etc. They can be pretty easy and cheap to come by at craft fairs or even at obscure antique shops. The key here is to lend character to your room by adding something that you admire.
Scale
Another very important aspect of decorating a room is to scale everything according to the size of the room. This will ensure that your room appears sleek, suave, clean and not cluttered. A cluttered room can suppress the positive aspects of the room and the decor will be marred.
Your bedroom can speak a lot about your personality. Make sure your ultimate refuge is as unique as you by following these simple tips and tricks.
Paul is a freelance writer that loves to share home decoration tips in order to help people improve the appearance of their home. You can have a look at his site on Water Fountains Indoor in order to learn more on him.
Jon Clark is an
Internet Marketing Consultant
, Entrepreneur and current editor of the
Facebook Marketing Blog
. Jon loves coffee, sports and NY. You can follow him on Twitter
@jonleeclark
or circle him on
Google+
.