Located in one of the most versatile districts in San Diego, Levanto luxury townhomes are positioned between the historic Gaslamp District and Mission Valley in Downtown San Diego. If you desire the privacy of your own home and the amenities of living in an apartment community, then the townhomes at Levanto is the realizations of your dreams. With world-class amenities and floorplans designed to satisfy even the most selective of tastes, Levanto townhomes are a far cry from the traditional townhome or apartment community.
Townhome Amenities
Once you pass through the entrance of Levanto, you are immediately greeted by expansive grounds highlighted by contemporary architecture and a welcoming atmosphere. With five floorplans ranging from 1,127 sq. ft. to 1,680 sq. ft. the modern townhomes at Levanto provide dramatic visuals while simultaneously offering quiet and warm spaces. Available in two and three bedroom designs, the luxurious accommodations rival those found in even the most spectacular townhome community.
Every townhome is adorned with the small touches that make a home awe-inspiring. With gourmet kitchens designed to house even the most demanding of cooks, chefs may enjoy a streamlined cooking experience through luxury stainless steel appliances, and the spa-inspired bathrooms offer an exotic and elegant escape to start and end your day. Every townhome comes equipped with an in-home washer and dryer as well as a spacious attached two-car garage. If you are wary about living in a townhome, visit Levanto and realize what living in true luxury is all about.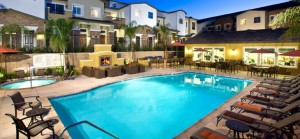 Community Features
While the Levanto townhome community is designed to give residents a suburban feel, the amenities found throughout the community are created to conjure sensations of staying at a five-star luxury resort. Residents are encouraged to take advantage of San Diego's beautiful weather by lounging at the resort-style swimming pool and spa. With barbeque and picnic areas, this community encourages residents to spend time outside of their home and interact with neighbors. The state-of-the-art fitness center is well-equipped with the latest in fitness equipment while the E-Lounge offers all the amenities of a high-end business center.
While the community amenities may be difficult to leave, if you're in the mood to explore some of the most popular attractions are within walking distance. With more than eight restaurants and bars in a two mile radius and pulsating nightlife options at your doorstep, living at Levanto is just that – living.
Jon Clark is an
Internet Marketing Consultant
, Entrepreneur and current editor of the
Facebook Marketing Blog
. Jon loves coffee, sports and NY. You can follow him on Twitter
@jonleeclark
or circle him on
Google+
.