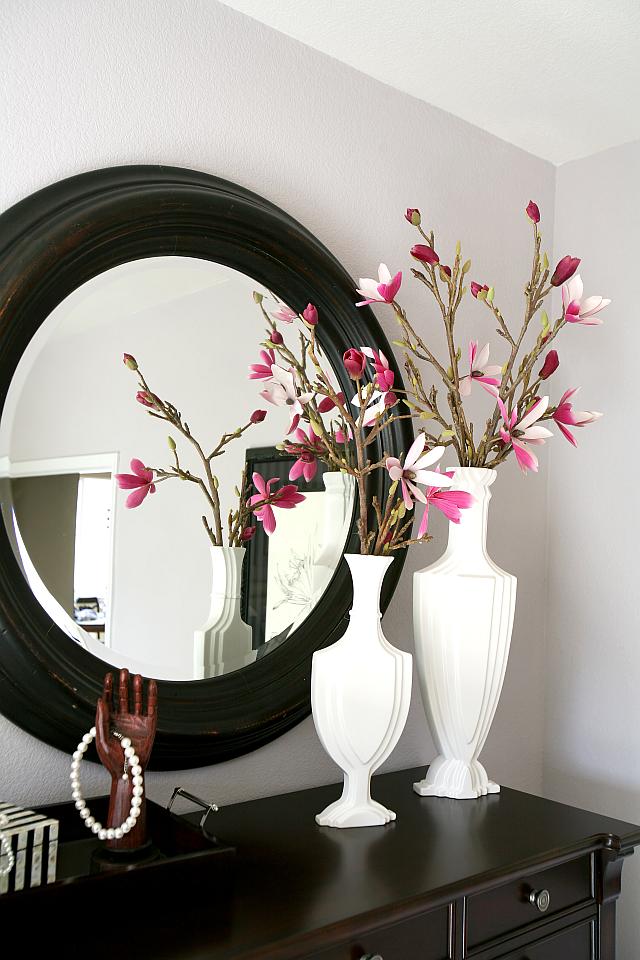 Small spaces can be tricky, so much so that there are monthly publications devoted to living well with minimum elbow room. So what can you do to create the illusion of space without knocking down walls?
What Size Mirror To Choose
Mirrors can be the focal point of the room or a decorative element. Choosing an oval, antique framed mirror hanging on its own will have a more dramatic effect than a rectangular one placed above a table displaying a vase of flowers. A mirror above or opposite the dining room table may prove too distracting, however, several long or square mirrors in a hallway can create the illusion of width.
Using Multiple Smaller Mirrors
Many home decorating stores, warehouses and chains sell decorative mirrors in packs of multiples, so repeating mirrors can do wonders for a wall with adequate room. Try a pack of four squares and arrange into a larger square. Avoid geometric shapes that are too varied or mirrored surfaces such as tabletops, which can make a room look dated.
Brighten Up Dark Or Unsightly Walls
Exposed brick can feel cold and dark colors can swallow the room. Play up the contrast by hanging a mirror to reflect some light off the surface and give the corner balance by placing light-colored potted flowers, like lilies or an orchid, on a small in front of it.
Using The Space You Have More Efficiently
If you're short on space, make doors do double duty by placing a mirror on the closet frame or on the back of the bedroom door. Mirrored cabinet units can work if they take up just a portion of the shelf space and don't overwhelm with a full wall's worth of reflection.
Thinking About Making A Statement Instead Of Being Functional
Use mirrors as art pieces. Have a few mismatched mirrors or inherited frames? Place them in the same room or group on a wall to showcase them as art. Standing vanity mirrors can also find an appropriate spot if they're ornate enough to stand with a small bowl of flowers or candles.
Where To Find Mirrors
You can find mirrors at home improvement stores like Home Depot and Lowe's but for mirrors with a more decorative touch, look at stores like T.J. Maxx, Marshall's, and Home Goods.
There you'll be able to find mirrors that are less utilitarian and more stylish. You're also more likely to find multiple mirror package deals. I recently picked up a three pack of stylish mirrors from Home Goods for just $30. We used one in the bathroom for over the sink and the other two in the hall just outside to tie the two spaces together.
You can get more home improvement or interior design ideas from this author at his website. Discover granite veneer countertops as an affordable alternative to granite or find out how to locate the best dishwasher sales that are happening right now.
Jon Clark is an
Internet Marketing Consultant
, Entrepreneur and current editor of the
Facebook Marketing Blog
. Jon loves coffee, sports and NY. You can follow him on Twitter
@jonleeclark
or circle him on
Google+
.