In the first two decades of the 20th century, designers including Frank Lloyd Wright and Gustav Stickley created a new Craftsman house plan style, which valued originality, high-quality craftsmanship, and functionality. These and other Craftsman designers envisioned a home style that would bring the average person closer to nature, through contact with natural materials—stone, timber, and glass are the stars of Craftsman styling. Partially a rebellion against ornate Victorian design, Craftsman homes featured clean lines and simplicity of design, with geometric shapes dominating. Designers also focused on maximizing functionality; hence the predominance of built-in storage, niche benches, and breakfast nooks in Craftsman house plans.
Craftsman homes thrived because they were affordable for middle-class families, who often built some or all of their Craftsman homes themselves by hand. Through 1940, Sears, Roebuck and Company sold entire home plan and material kits, which were shipped to homeowners by railroad and erected on site, by contractors or by families.
Today, Craftsman home styling has stood the test of time; this design approach enjoys perennial popularity among homeowners and designers alike. No wonder, as Craftsman homes featured many of the elements today's homeowners cherish: Open floor plans, environmental friendliness, affordability, and built-in organization.
Because of the simplicity of Craftsman styling, it's not difficult to add Craftsman flair to any home. Read on for a few ways to bring the Craftsman spirit into your existing home or house plans.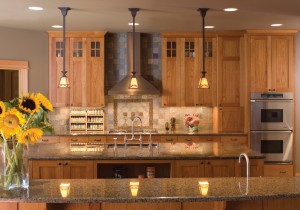 How to Add Craftsman Styling to Any Home
As any designer will tell you, transforming a home into a certain style is all in the details. So, you can make your "Craftsman-ization" as small or as grand as you like. Simply switching out cabinet fixtures will immediately add a new feel to your kitchen, for instance. On the other end of the time/money investment spectrum, you can replace your roof with one that features dormers and wide eaves. Whatever you do, make sure your choices reflect the square lines, solid materials, and emphasis on clean functionality that embodies the Craftsman style.
Add built-ins
Craftsman designers recognized that built-in bookcases, dining nooks, window seats, and benches added functionality for homeowners.
Change out fixtures
Craftsman lights were simple, often composed of iron or bronze and glass, in rectangular and square shapes. Cabinet and furniture hardware tended to be in copper or brass, with hammered, oil-rubbed or polished finishes. Again, geometric styling dominates.
Add a new backsplash
Hand-made tiles were included in many original Craftsman homes. Your kitchen backsplash is a great way to express this aspect of Craftsman styling. Solid colors and natural motifs are common in Craftsman tile work.
Add interior paint in earth tones
Earth tones are especially appropriate for the Craftsman style, which aimed to highlight the natural beauty of materials such as stone and wood. Creamy white, beige, green, brown, blue, and gray are common colors found the average Craftsman home plan.
Install moldings
This finished carpentry detail of bygone eras will make any room feel more removed from contemporary life. Choose crown moldings (around the top of the room) or wainscoting moldings (at waist height).
Add Craftsman details to your fireplace
Add colored tile surrounded by a heavy wood mantle. Placing built-in bookcases on either side of a heavy wood mantle is especially Craftsman.
Put in a breakfast nook
Eat-in Craftsman kitchens represented a break with older Victorian designs, which usually aimed to hide the kitchen from view. A carpenter or home designer can easily incorporate a wood breakfast nook in your home design, provided you have the space.
Add stained glass panels
Original Craftsman homes often featured stained glass windows, which add privacy and beauty. If cost is a barrier, Craftsman style window sticks are available.
Install natural wood floors
Craftsman homes tended to have practical, easy-to-clean wood floors, with cozy rugs.
Replace the front door
Whether consciously or subconsciously, the entryway is how many people assess a home's style. Craftsman homes tend to have wood doors with simple flat panels, shelves, and square detailing.
Feature Craftsman furniture
Period furniture tended to be wood (walnut, oak, and mahogany in particular), with simple geometric lines, spindles and slats, and hand-hammered copper hardware. (Again, we see the focus on handmade craft.)
Change the roofline
You can create a Craftsman roof style by adding deep eaves with exposed rafters and square brackets. Dormers are also common in Craftsman home plans.
Add on a front porch
The Craftsman porch was covered by an extension of the front roof, and supported by tapered square columns.
Weekend project by weekend project, with enough effort you can transform nearly any home into an expression of Craftsman style. The simplicity and warmth of the 1920s Craftsman homes provided a respite from the newly modern surroundings of the turn of the 20th century. Now the same Craftsman charm can help you relax and unplug from modern life.
Post and photos courtesy of Houseplans.co , the online home of Alan Mascord Design Associates, where visitors can find more than 700 gorgeous house plans, including styles from Contemporary to Craftsman house plans.
Jon Clark is an
Internet Marketing Consultant
, Entrepreneur and current editor of the
Facebook Marketing Blog
. Jon loves coffee, sports and NY. You can follow him on Twitter
@jonleeclark
or circle him on
Google+
.