Have you been putting off remodeling your bathroom due to budget issues? The cost of bathroom remodeling can be high given the traditionally high prices of essential fittings (faucets, bathtubs etc), but there are still ways in which you can give your bathroom a fresh lease of life without emptying out your bank account.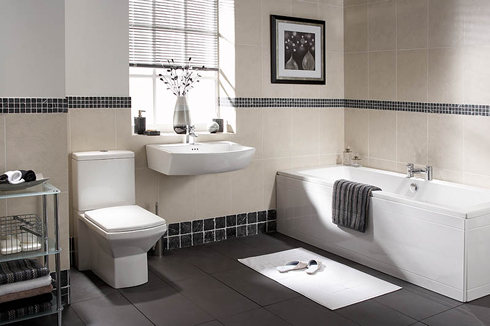 Refresh the paint
The very first element of an effective makeover is a coat of fresh paint. Clean your bathroom out – remove everything that can be moved and cover/tape-off everything that cannot. If your bathroom is small like most bathrooms, choose a light shade of paint. It isn't necessary to always paint your bathroom white. You could try some other pale pastel shades like pale blue, pink, yellow, lavender and even pale green.
Get a great vanity
A stylish vanity goes a long way in rejuvenating a bathroom. You don't have to throw out the entire set and get a new one, but you could make small changes like getting a new mirror, painting the vanity in a new color (black is a popular choice for contemporary styles) or even adding some colorful glass or ceramic tiles to it. You can use the same techniques on bathroom cabinets. Even something as simple as replacing old knobs and handles with contemporary metal ones can freshen up your bathroom's appearance.
New flooring
Consider adding new flooring to complement the new paint in your bathroom. Vinyl and ceramic tile flooring are most popular because they're cheap, easy to clean and water-resistant. If your existing bathroom flooring is in good shape and just needs a dash of something new, consider getting new bathroom rugs. These rugs are available in a variety of materials, designs, shapes and colors, and are usually quite inexpensive.
Change fixtures & storage
Changing bathroom fixtures (lights, faucets, shower-heads, towel racks etc.) can do wonders for your bathroom renovation without burning a hole in your pocket. Similarly, adding innovative storage solutions like trendy steel shower caddies and using glass shelves can add a chic, modern look to your bathroom.
Accessorize
The right accessories can transform the look of any place for the better, and your bathroom is no exception. You can either choose to make it personal (for example, a small bookshelf with your favorite reads or a small rack for favorite pictures) or nature friendly (a small potted plant next to the sink) or even just a new set of bamboo blinds for the window, if any. Remember to avoid clutter at all costs and keep only the things you really need in your bathroom. This not only makes your bathroom easier to clean and maintain, but also makes it a more relaxing space overall.
Remember that it isn't always necessary to shell out large sums of money to have a pleasing, comfortable bathroom. Work with what is already there and add small changes or improvements. Following some or all of the ideas listed above can make your bathroom remodeling a creative experience that you can have a lot of fun with!
This article has been written by Denis who loves to share tips on home improvement. You can have a look at his site on water fountains if you want to learn more on him.
Jon Clark is an
Internet Marketing Consultant
, Entrepreneur and current editor of the
Facebook Marketing Blog
. Jon loves coffee, sports and NY. You can follow him on Twitter
@jonleeclark
or circle him on
Google+
.