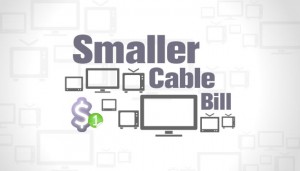 I remember the first time I paid my own cable and Internet bill. It was my senior year of college and I was super excited about living "on my own" – meaning in an apartment off campus with one of my girlfriends. No more parents, or Resident Assistants ("RAs") or even the official campus rules. We were adults. (Or at least we thought we were.) We spent hundreds of dollars buying used furniture, dishes, and other decorations to make the place feel like home. We painted the walls and invited friends over for dinner parties. We also paid our own rent and utilities, and at the time, this seemed like a great thing; until we got our first cable and Internet bill.
Between the set-up and installation fees, the cable box, and of course, the cable and Internet, the total was more than $200 for one month of cable and Internet. That was more than we spent on food. We were shocked. We called up the cable company and cancelled the service. We simply couldn't afford it.
That, however, was already many years ago and luckily for students and anyone else that wants to save some money, there are plenty of ways to cut your cable and Internet bills. Here are five excellent ways to reduce your bills – many of which simply weren't around back in college.
1. Start watching TV online

You would be surprised at how many of the shows we pay to watch on television are actually available for little or nothing online. These days there are a number of services that you can use for less money. For basic television, check the station's websites for current episodes; and a lot of cable channels (e.g. Lifetime) have their shows available online for free as well. Hulu streams a number of current shows, and Hulu Plus, which has a low monthly fee, has even more.
2. Make friends with your neighbors and share wireless

If you live in a large apartment building or even in a small house divided into apartments, chances are you see a lot of WiFi networks that you could sign into – if only you had the password. Try knocking on your neighbor's door and asking if they want to split their Internet bill with you. Most people are happy to save a little money! Unless they're using a lot of bandwidth by video calling all day or gaming, you'll be fine.
3. Join Amazon Prime 

If you are not yet an Amazon Prime member, you should seriously consider becoming one, especially if you order a lot from the online giant.  Your annual Amazon Prime membership costs less than a month of cable and will not only give you free shipping on most Amazon orders, but will also give you access to a huge library of television and movies available for free to all Prime members.
4. Ask for a discount
Many people would be surprised to learn how easy it is to get a discount. Sometimes all it takes is asking for one. If your bills are higher than you can afford, call the customer service department. Be polite, courteous and grateful for the representative's time. Explain your situation and ask if there is anything he/she can do to help. There usually is. If not, thank them for the time, say you will need to consider whether you can afford the current rate and hang up. Don't lose your temper or say anything rude. Remember, you are asking for a favor!
5. Get rid of extra channels
Though I could watch HBO all day long, I have little need or tolerance for sports channels. It was only when I realized I was paying for those channels that I noticed I even had access to them. Take some time to figure out if you are actually using what you are paying for, and then cancel any channels you consider extraneous.
About the author: Stephan Jukic is a freelance writer who generally covers a variety of subjects relating to the latest changes in white hat SEO, mobile technology, marketing tech and digital security. He also loves to read and write about location-free business, portable business management and finance. When not busy writing or consulting on technology and digital security, he spends his days enjoying life's adventures either in Canada or Mexico, where he spends part of the year. Connect with Stephan on LinkedIn.
Jon Clark is an
Internet Marketing Consultant
, Entrepreneur and current editor of the
Facebook Marketing Blog
. Jon loves coffee, sports and NY. You can follow him on Twitter
@jonleeclark
or circle him on
Google+
.